CITADELIC is highly commited to music, jazz, improvisation and performance...
with a summer in the park festival
and other programs at different locations like SMAK, Atelier, HISK Institute, Gravensteen, St-Anna, El Negocito!!!
Stad Gent, S.M.A.K. Museum, S.M.A.K. café, Q'Onda? vzw en el NEGOCITO Records present
CITADELIC @ SMAK CONCERTS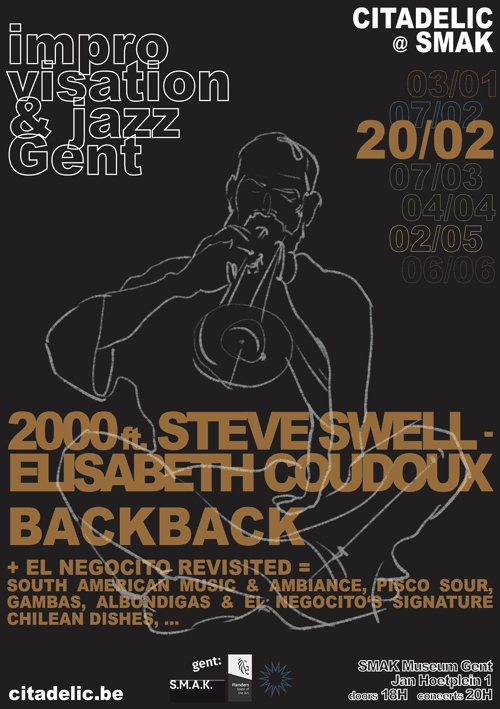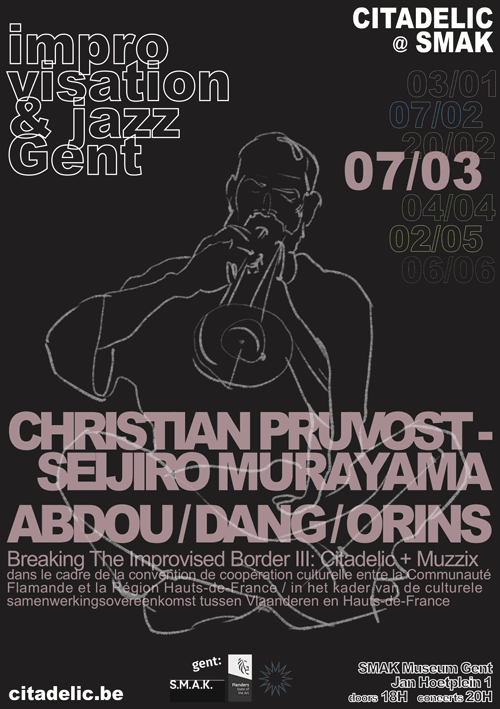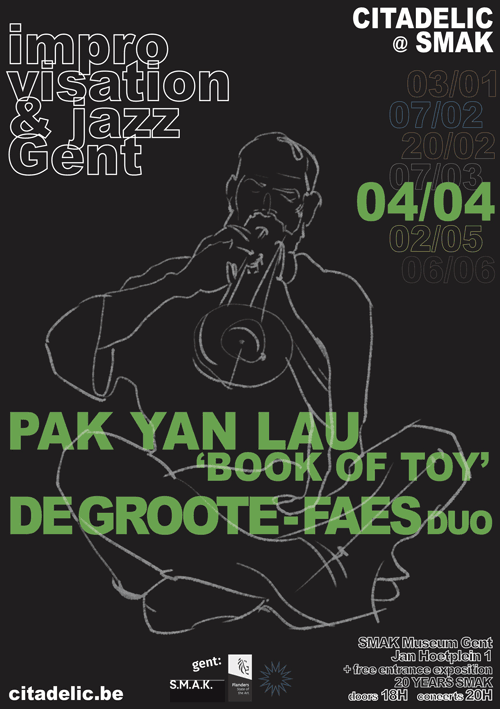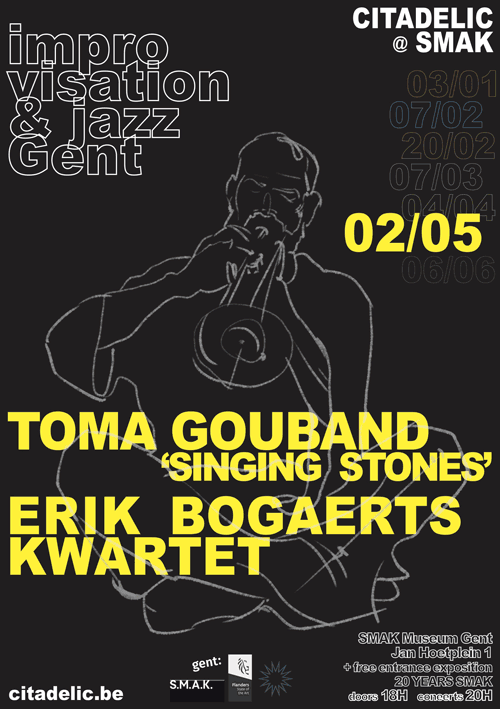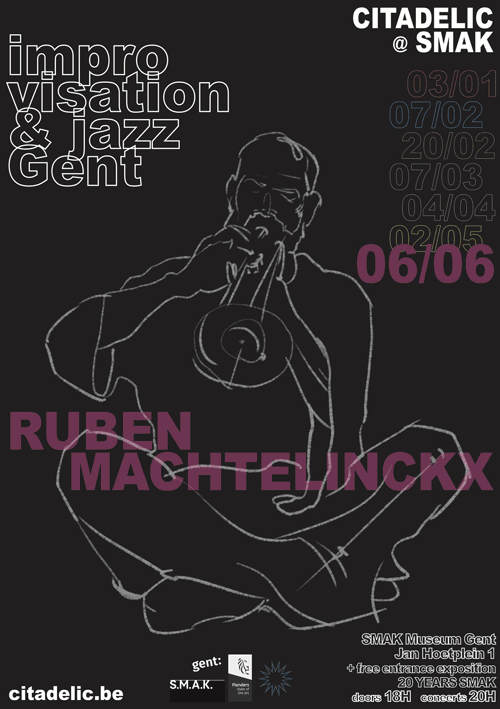 Winter & Spring Citadelic concerts 2019 at S.M.A.K. Gent (Jan Hoetplein 1 Gent)
The concerts of february will be accompagnied with the El Negocito signature: South American food, music and of course pisco sour...
From April onwards the dates coincide with the SMAK 'Nocturne' evenings, so you will be able to visit the 20 years SMAK expo with your ticket.
Tickets available by paying our account CITADELIC - IBAN BE31 6524 8190 3055 - BIC HBKABE22 with notification which concert(s) you chose
* march: 5€/student or 7,5€/adult for the concerts
* april - may - june: 7€/student or 15€/adult for the concerts (+ entrance exposition 20 years SMAK)
april - may: 6€/student or 10€/adult for the 2nd concert
or through paypal or with bank cards (see below)

7 march 2019: an evening of improvisation from Muzzix Lille
CHRISTIAN PRUVOST - SEIJIRO MURAYAMA (FR/JP) - Christian Pruvost (trumpet), Seijiro Murayama (percussion)
ABDOU / DANG / ORINS (FR) - Sakina Abdou (saxophone), Barbara Dang (piano), Peter Orins (drums)

Fascinated by the alchemy between musical matter, timbre of the instrument, space and time, trumpeter Christian Pruvost from Lille and the Japanese percussionist Seijiro Murayama deliver improvised music consisting of breathing, whispering, voices meet skins with an emotional power without equivalent.

A trio. A saxophone. A piano. A drums. Notes. Noise. Maybe melodies. Repetitive, surely. Hijacked instruments. Pure tones. Returned timbres. Relief, backgrounds. Maybe some foregrounds too. Minimal. But full. It's vegetable, wet, organic. It's suspended, tense, all delicate. Time stops, and passes.
Playing on minimalist modes and an ultra-reduced sound volume, Sakina Abdou, Barbara Dang and Peter Orins explore the timbres and the extended techniques of their instruments, play on the differences in plans and substances, blur the sound image.

these concerts are part of
Breaking The Improvised Border III: Citadelic (Gent - B, citadelic.be) + Muzzix (Lille - Fr, muzzix.info)
dans le cadre de la convention de coopération culturelle entre la Communauté Flamande et la Région Hauts-de-France
in het kader van de culturele samenwerkingsovereenkomst tussen Vlaanderen en Hauts-de-France

4 april 2019
PAK YAN LAU 'BOOK OF TOY' (HK/BE) - Pak Yan Lau (toypianos, electronics and objects)
DE GROOTE - FAES DUO (BE) - Bruno De Groote (electric guitar), Ben Faes (double bass)

Active and fascinating figure of the experimental underground scene of Brussels, the sound artist Pak Yan Lau, exposes a rich, dense and captivating sound universe, documented on her excellent triple solo recording "Books"
At this occasion she will present 'Book of Toy' where the universe of overtones, harmonics and metallic bass sounds of toy pianos (inside and outside) in combination of clockworks and electronics are being exposed.

Belgian instrumental duo De Groote - Faes have a strong live reputation, exploring an ever widening universe of highly personal sounds while using only classical double bass and often raw electric guitar, the atmospheres shift from energetic and wild jazz to delicate intimacy, classic beauty and poetry, echoes of world and ethnic music, into trippy electronic sound manipulation. In the process of creation, the duo lays a heavy focus on composition and arrangement, which leads to a unique and exuberant repertoire, instantly recognisable.

ticket = entrance to 'Nocturne' and exhibition SMAK 20 jaar: De Collectie (1) | Highlights for a Future

ticket concerts + entrance 20 years SMAK expo

2 may 2019
TOMA GOUBAND 'SINGING STONES' (FR) - Toma Gouband (percussions & singing stones)
ERIK BOGAERTS KWARTET (BE/FR) - Erik Bogaerts (alto saxophone), Jeroen van Herzeele (tenor saxophone), Brice Soniano (double bass), Steven Cassiers (drums)

One doesn't even need to 'enter' into the music of Toma Gouband: our ears and eyes are invited, by the spectacular and extraordinary organisation of colors and timbres that make up his dreaming inventive universe. Pieces of flint, natural skins covering a horizontal bass drum, which has scattered upon it tiny bells or blocks of wood, branches and twigs… pebbles rolled on the ground, inverted cymbals collcting thus all sorts of natural resonators… The high-hat cymbals have been replaced by…they've also been replaced by stones! Animated by an interior pulsation made from the superimposition of mysterious cycles, like so many clocks telling life's time in polyrythms that collide and cross over each other, the music of Toma Gouband transcends the idea of an imaginary territory, for it invites us to approach it as we would a social rite or even a ceremony of love. (Benoît Delbecq)

Erik Bogaerts Kwartet is a playful jazz quartet founded by the alto saxophonist with the same name. Their musical research balances between serene melodies within harmonic structures and energetic expression in groove and improvisation. Interplay between the members is a key factor as well as the guiding rule of pursuit of a joyous and explorative night for the musicians and their audience.

ticket = entrance to 'Nocturne' and exhibition SMAK 20 jaar: De Collectie (1) | Highlights for a Future

ticket concerts + entrance 20 years SMAK expo

6 June 2019
RUBEN MACHTELINCKX (BE) - Ruben Machtelinckx (guitar, baritone guitar, banjo)

Ruben Machtelinckx is one of Belgium's finest contemporary musicians. In a short period of time he has become a respected composer and guitar player with a very own sound.
"Especially recommended to banjo fans looking for something different, but there's plenty of minimalist atmosphere for people who didn't even know they liked the banjo." **** All About Jazz

ticket = entrance to 'Nocturne' and exhibition SMAK 20 jaar: De Collectie (1) | Highlights for a Future
Citadelic at concerts at Cultural Center Museum Strombeek
22 March 2019
22H opening 'A translation from one language to another' deel II
concert Duo Periculoso (ft. Peter Jacquemyn - Gunda Gottschalk)
free entrance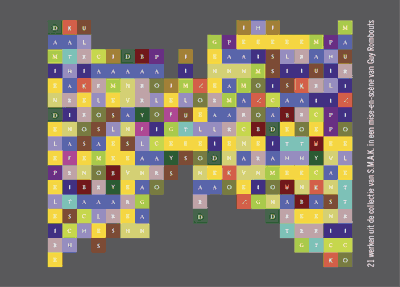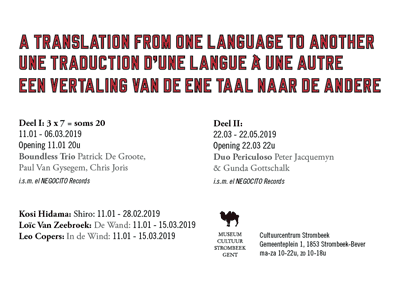 CITADELIC FESTIVAL 29 MAY - 2 JUNE
Fujii Satoko will be coaching a line up of young musicians for different concerts: 4 French musicians & 4 Citadelic musicians. They are performing on the 2nd of june.
This project is part of Breaking The Improvised Border : Citadelic (Gent - B, citadelic.be) + Muzzix (Lille - Fr, muzzix.info)
dans le cadre de la convention de coopération culturelle entre la Communauté Flamande et la Région Hauts-de-France
in het kader van de culturele samenwerkingsovereenkomst tussen Vlaanderen en Hauts-de-France
Critics and fans alike hail pianist and composer Satoko Fujii as one of the most original voices in jazz today. A truly global artist, she tours internationally leading several ensembles based in Japan, Europe, and the United States. Just as her career spans international borders, her music spans many genres, blending jazz, contemporary classical, rock, and traditional Japanese music into an innovative synthesis instantly recognizable as hers alone. Her wide-ranging compositions can incorporate the simple melodies of folk song, the harmonic sophistication of jazz, the rhythmic power of rock, and the extended forms of symphonic composers. Although Fujii's compositions are full of sudden shifts in direction and mood, the extremes are always part of a greater conceptual whole. The 2015 El Intruso International Critics Poll recognized her as one of the composers of the year and in 2016 she was named a Rising Star Composer in the 64th Annual DownBeat International Critics Poll. As an improviser, Fujii is equally wide-ranging and virtuosic. In her solos, explosive free jazz energy mingles with delicate melodicism and a broad palette of timbre and textures.

"She is the Ellington of free jazz."―Bob Rusch, Cadenc

"Unpredictable, wildly creative, and uncompromising…Fujii is an absolutely essential listen for anyone interested in the future of jazz." ― Dan McClenaghan, All About Jazz

"Fujii is clearly one of the most exciting musicians to come along in a while." ― Robert Iannapollo, Cadence
website: made by MNDesign 2019