CITADELIC is highly commited to music, jazz, improvisation and performance...
with a summer in the park festival
and other programs at different locations like SMAK, Atelier, HISK Institute, Gravensteen, St-Anna, El Negocito!!!
Stad Gent, S.M.A.K. Museum, S.M.A.K. café, Q'Onda? vzw en el NEGOCITO Records present
CITADELIC @ SMAK CONCERTS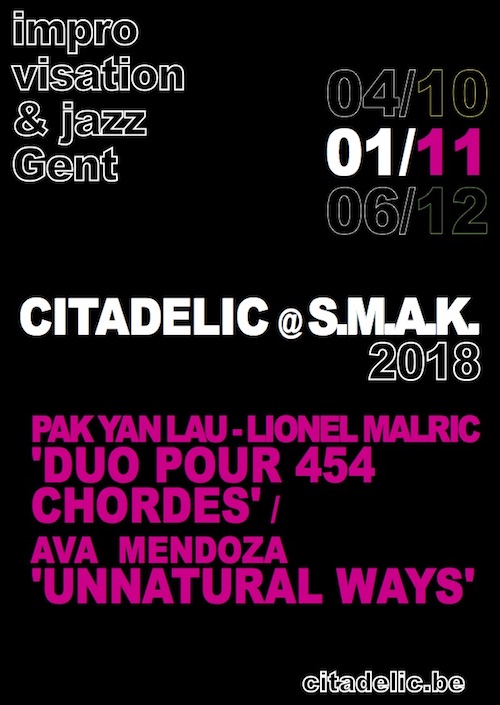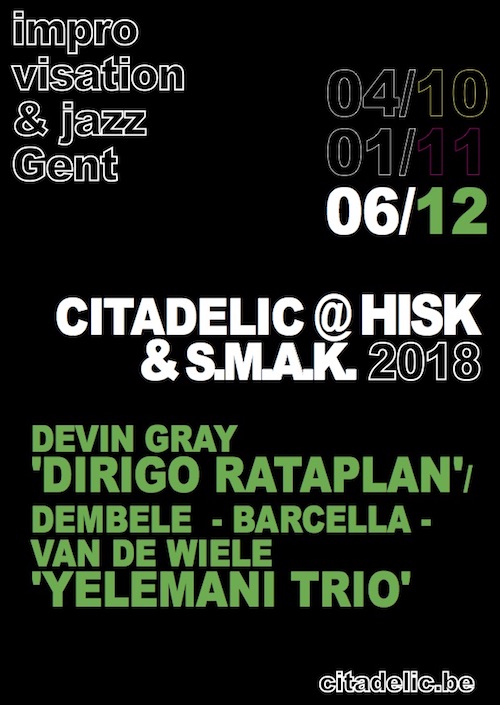 here's the line up of our new batch of concerts
the dates are coinciding with SMAK 'Nocturne' evenings or special events (Jan Hoetplein 1 Gent);
so you can visit with the ticket also the wonderfull first full retrospective of Belgian renowned painter Raoul De Keyser.
The first concert of december wil be at the HISK Institute (Charles de Kerchovelaan 187a Gent);
6 december 2018:
concert 1 at HISK: DIRIGO RATAPLAN (US) - Ellery Eskelin, Dave Ballou, Michael Formanek, Devin Gray !!! at HISK Institute (Charles de Kerchovelaan 187a Gent) !!!
concert 2 at SMAK: YELEMANI TRIO - Moussa Dembélé (BF), Mathias Van de Wiele, Giovanni Barcella

Drummer-Composer Devin Gray reconvenes his Dirigo Rataplan band of master musicians from New York for follow-up to their acclaimed first album. Dirigo Rataplan II showcases a striking set of original Gray compositions featuring saxophonist Ellery Eskelin, bassist Michael Formanek and trumpeter Dave Ballou. The new work brims with more earworm melody, richly implied harmony and a loose-limbed sense of rhythm as something physical and flowing – as blood, as breath. Fans of jazz from Ornette Coleman and Henry Threadgill to Dave Holland and Craig Taborn will dig this organic, engrossing mix of composition and improvisation, structure and freedom, atmosphere and dynamism.

Yelemani Trio (Burkinese for "change") came into being in March 2014 when Moussa, Mathias & Giovanni decided to form a group from a common love for African and improvised music. Their music draws from various Burkinese traditions, but also from Jazz, impro, rock, psychedelica and electronic music, resulting an exotic sound adventure where dialogue, creation and positive energy lay central ...

Breaking The Improvised Border I: Citadelic (Gent - B, citadelic.be) + Muzzix (Lille - Fr, muzzix.info)
dans le cadre de la convention de coopération culturelle entre la Communauté Flamande et la Région Hauts-de-France
in het kader van de culturele samenwerkingsovereenkomst tussen Vlaanderen en Hauts-de-France
CITADELIC FESTIVAL 29 MAY - 2 JUNE
first name: Fujii Satoko will be coaching a line up of young musicians for different concerts: 4 French musicians & 4 Citadelic musicians. They are performing on the 2nd of june.
Critics and fans alike hail pianist and composer Satoko Fujii as one of the most original voices in jazz today. A truly global artist, she tours internationally leading several ensembles based in Japan, Europe, and the United States. Just as her career spans international borders, her music spans many genres, blending jazz, contemporary classical, rock, and traditional Japanese music into an innovative synthesis instantly recognizable as hers alone. Her wide-ranging compositions can incorporate the simple melodies of folk song, the harmonic sophistication of jazz, the rhythmic power of rock, and the extended forms of symphonic composers. Although Fujii's compositions are full of sudden shifts in direction and mood, the extremes are always part of a greater conceptual whole. The 2015 El Intruso International Critics Poll recognized her as one of the composers of the year and in 2016 she was named a Rising Star Composer in the 64th Annual DownBeat International Critics Poll. As an improviser, Fujii is equally wide-ranging and virtuosic. In her solos, explosive free jazz energy mingles with delicate melodicism and a broad palette of timbre and textures.

"She is the Ellington of free jazz."―Bob Rusch, Cadenc

"Unpredictable, wildly creative, and uncompromising…Fujii is an absolutely essential listen for anyone interested in the future of jazz." ― Dan McClenaghan, All About Jazz

"Fujii is clearly one of the most exciting musicians to come along in a while." ― Robert Iannapollo, Cadence
website: made by MNDesign 2018