CITADELIC is highly commited to music, jazz, improvisation and performance...
with a summer in the park festival
and other programs at different locations like SMAK, Atelier, HISK Institute, Gravensteen, St-Anna, El Negocito!!!
Stad Gent, S.M.A.K. Museum, S.M.A.K. café, Q'Onda? vzw en el NEGOCITO Records present
CITADELIC @ SMAK CONCERTS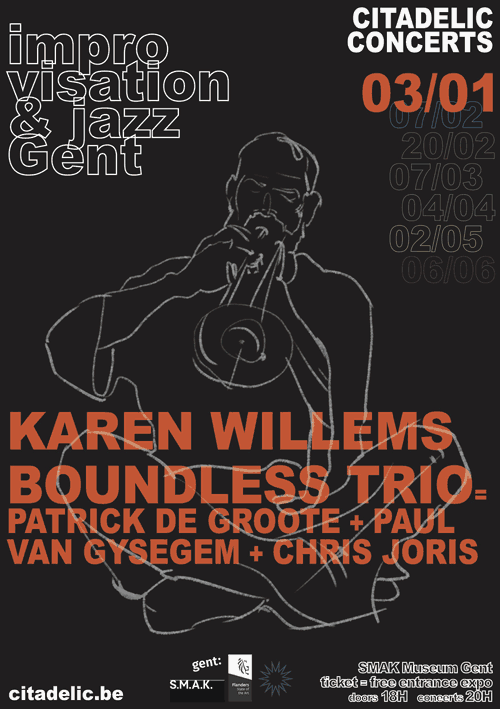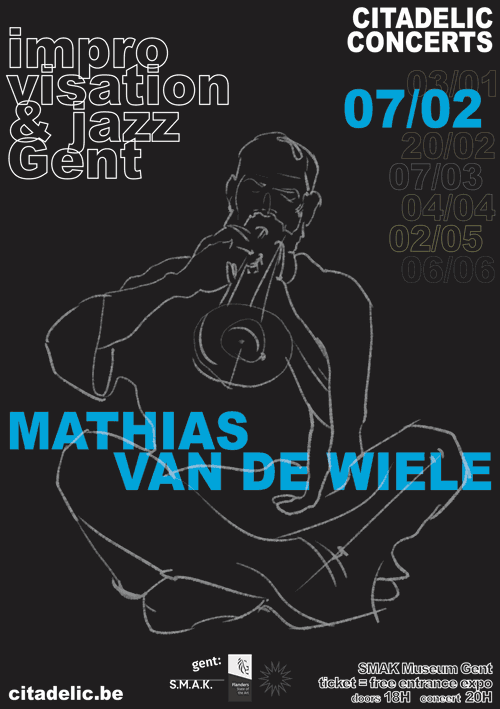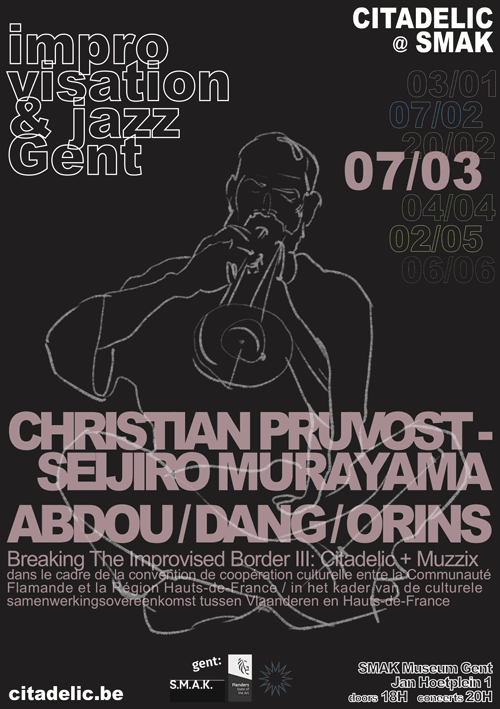 here's the line up of our Winter & Spring Citadelic concerts
the dates are coinciding with SMAK 'Nocturne' evenings on january and march (Jan Hoetplein 1 Gent);
so you can visit with the ticket on January 3th the wonderfull full retrospective of Belgian renowned painter Raoul De Keyser
or the 20 years SMAK expo on March and April;
The February concerts will be accompagnied with El Negocito food and DJ's afterwards...
Tickets available by paying our account 6€/student or 10€/adult for a concert or 15€/student or 27€/adult for all winter/spring 2019 concerts
CITADELIC - IBAN BE31 6524 8190 3055 - BIC HBKABE22 with notification which concert(s) you chose
or through paypal - bank cards see below

3 january 2019
KAREN WILLEMS (BE) - Karen Willems
BOUNDLESS TRIO (BE) - Patrick De Groote, Paul Van Gysegem & Chris Joris

'There are those who confirm and those who confront and never stop transforming'
Karen Willems is a restless seeker. Always digging for more. Digging deeper.
The ever restless instinct remains at the steering wheel. Willems' quirkiness has become her trademark in the meantime, and it is probably also one of the main reasons why she turns up in such different surroundings (Inwolves, Yuko, Novastar, Zita Swoon, Mauro Pawlowski, Arno, …).
Her spontaneous, organic approach to playing has always been able to avoid clichés. Endless turning patterns often form the basis for her musical coloring pages, they are the glue that keep these many temperaments and atmospheres together.

Bassist Paul Van Gysegem, more known as a painter-sculpturor, was already exploring a new musical language in the early 1960s, sparked by the American avant-garde. Jazz musicians such as Ornette Coleman, Cecil Taylor and Don Cherry aroused Patrick De Groote to pick up the trumpet in 1965. Van Gysegem asked him to join his ensemble and thus they became protagonists of the free jazz in Belgium (cfr. their legendary recording 'Aorta'). Their long-term collaboration could not be better sealed than with the choice of master percussionist and multi-instrumentalist Chris Joris, who has been pioneering for decades with all possible ethnic forms, to complete the sound pallet. Their album was rated in New York (NY Jazz Record Gazette) amongst the best releases of 2017.

ticket = entrance to exposition in SMAK 'Nocturne': retrospective of Raoul De Keyser

20 february 2019
2000 (DE/US/NL/BE) - Jan Klare (saxophones & reeds), Steve Swell (trombone), Elisabeth Coudoux (cello), Wilbert de Joode (double bass),
Michael Vatcher (drums), Bart Maris (trumpet) release tour
BACKBACK (BE/IT) - Filip Wauters (electric/ baritone guitar) Marc De Maeseneer (baritone/tenor saxophones) & Giovanni Barcella (drums) release tour

The band 1000 has gone through many musical developments since it was founded in 2004 by Jan Klare, Bart Maris, Wilbert de Joode and Michael Vatcher. It actually started playing compositions mainly from the classical world by composers like Wagner Bach or Monteverdi, combined with some originals by Klare. Although composition was always a crucial element in their music, the way these four players improvised together was the prominent impressive side of the quartet. ("consistently interesting quartet that keeps evolving and getting better with each release." Bruce Lee Gallanter, Downtown Music Gallery). Through the years 1000 developed a very intuitive, almost telepathic musical language with an enormous instinct for form and structure. When drummer Vatcher left to New York City in 2017 the band was shaken. An invitation to the Moers festival 2018 and demand of some bookers pushed 1000 back into action ending up as a six piece band including Elisabeth Coudoux on cello and Steve Swell on trombone.

A Belgian based jazz trio. "An unusual line-up" you might think, or "no bass player, isn't that a handicap?" Not so with Backback. Through years of rehearsing, gigging, and recording the trio has forged their own impressive sound and they also seem to have a magic formula that keeps their music fresh, ingenious, yet accessible. Filip Wauters' original compositions are moulded around and bounce off and the band's individual playing styles and explore a whole range of musical styles and influences: jazz, rock, free jazz, funk, the result is uniquely Backback, an established name in the Belgian jazz scene.

7 march 2019: an evening of improvisation with Muzzix Lille
CHRISTIAN PRUVOST - SEIJIRO MURAYAMA (FR/JP) - Christian Pruvost (trumpet), Seijiro Murayama (percussion)
ABDOU / DANG / ORINS (FR) - Sakina Abdou (saxophone), Barbara Dang (piano), Peter Orins (drums)

Fascinated by the alchemy between musical matter, timbre of the instrument, space and time, trumpeter Christian Pruvost from Lille and the Japanese percussionist Seijiro Murayama deliver improvised music consisting of breathing, whispering, voices meet skins with an emotional power without equivalent.

A trio. A saxophone. A piano. A drums. Notes. Noise. Maybe melodies. Repetitive, surely. Hijacked instruments. Pure tones. Returned timbres. Relief, backgrounds. Maybe some foregrounds too. Minimal. But full. It's vegetable, wet, organic. It's suspended, tense, all delicate. Time stops, and passes.
Playing on minimalist modes and an ultra-reduced sound volume, Sakina Abdou, Barbara Dang and Peter Orins explore the timbres and the extended techniques of their instruments, play on the differences in plans and substances, blur the sound image.

Breaking The Improvised Border I: Citadelic (Gent - B, citadelic.be) + Muzzix (Lille - Fr, muzzix.info)
dans le cadre de la convention de coopération culturelle entre la Communauté Flamande et la Région Hauts-de-France
in het kader van de culturele samenwerkingsovereenkomst tussen Vlaanderen en Hauts-de-France

ticket = entrance to exposition in SMAK 'Nocturne': 20 years SMAK

4 april 2019
TBA (..) - ...
TBA (..) - ...

ticket = entrance to exposition in SMAK 'Nocturne': 20 years SMAK

abonnement / subscription for 4 concerts
SPRING CITADELIC @ SMAK CONCERTS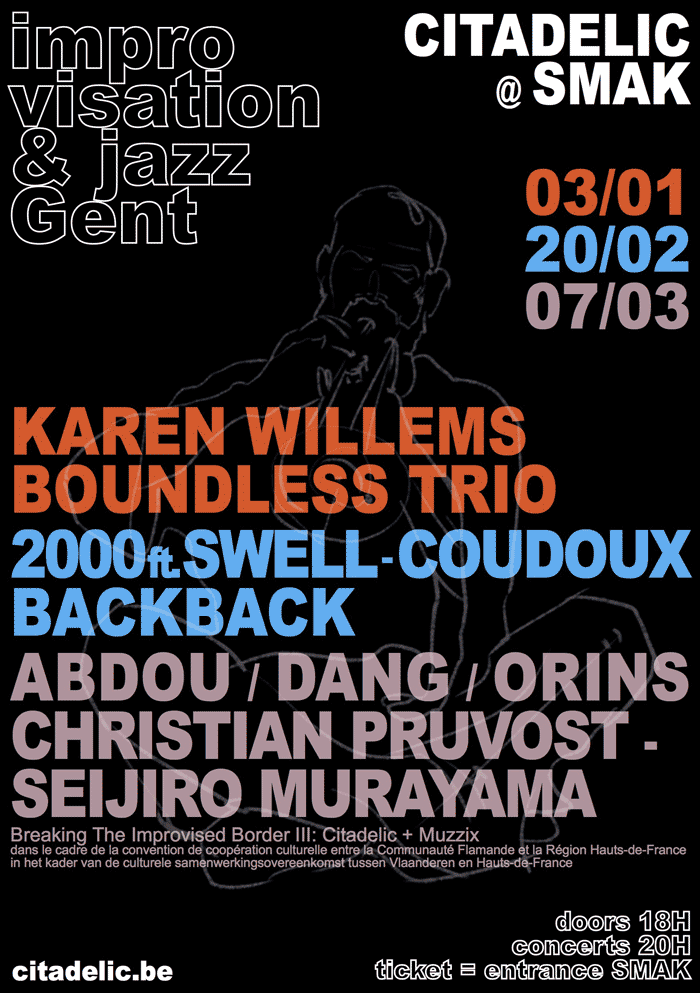 CITADELIC FESTIVAL 29 MAY - 2 JUNE
first names: Jozef Dumoulin & Lidlboj, Fujii Satoko
Fujii Satoko will be coaching a line up of young musicians for different concerts: 4 French musicians & 4 Citadelic musicians. They are performing on the 2nd of june.
This project is part of Breaking The Improvised Border : Citadelic (Gent - B, citadelic.be) + Muzzix (Lille - Fr, muzzix.info)
dans le cadre de la convention de coopération culturelle entre la Communauté Flamande et la Région Hauts-de-France
in het kader van de culturele samenwerkingsovereenkomst tussen Vlaanderen en Hauts-de-France
Critics and fans alike hail pianist and composer Satoko Fujii as one of the most original voices in jazz today. A truly global artist, she tours internationally leading several ensembles based in Japan, Europe, and the United States. Just as her career spans international borders, her music spans many genres, blending jazz, contemporary classical, rock, and traditional Japanese music into an innovative synthesis instantly recognizable as hers alone. Her wide-ranging compositions can incorporate the simple melodies of folk song, the harmonic sophistication of jazz, the rhythmic power of rock, and the extended forms of symphonic composers. Although Fujii's compositions are full of sudden shifts in direction and mood, the extremes are always part of a greater conceptual whole. The 2015 El Intruso International Critics Poll recognized her as one of the composers of the year and in 2016 she was named a Rising Star Composer in the 64th Annual DownBeat International Critics Poll. As an improviser, Fujii is equally wide-ranging and virtuosic. In her solos, explosive free jazz energy mingles with delicate melodicism and a broad palette of timbre and textures.

"She is the Ellington of free jazz."―Bob Rusch, Cadenc

"Unpredictable, wildly creative, and uncompromising…Fujii is an absolutely essential listen for anyone interested in the future of jazz." ― Dan McClenaghan, All About Jazz

"Fujii is clearly one of the most exciting musicians to come along in a while." ― Robert Iannapollo, Cadence
website: made by MNDesign 2018