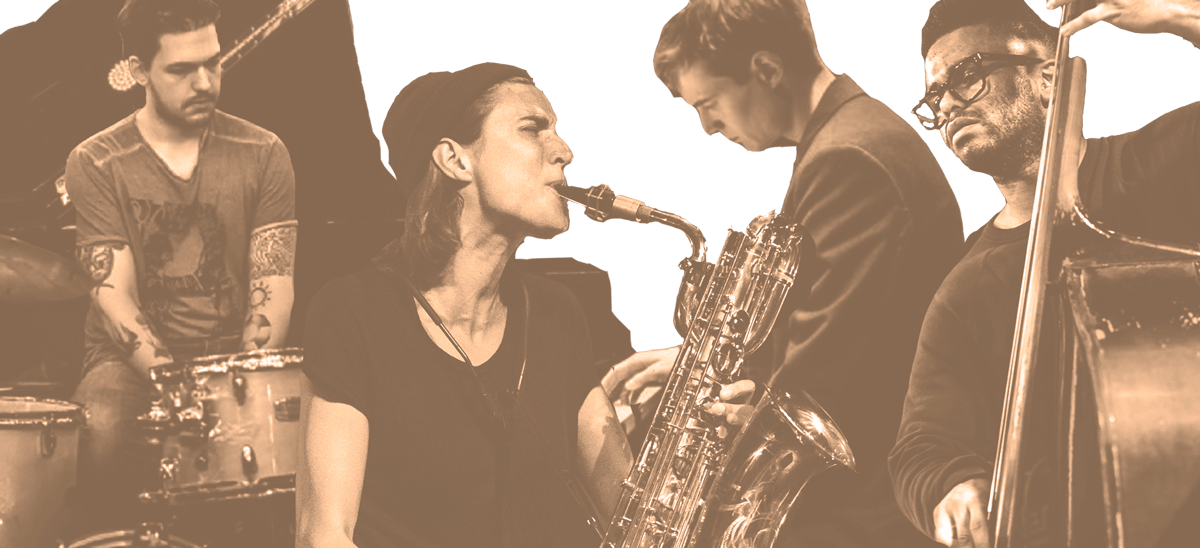 festival CITADELIC #14
AUGUST 16 . 18H15

de backer // dunston // vertessen // stemeseder
avant-garde jazz by the young and the restless, free Flemisch-New York connection, breaking new grounds

The Brooklyn-based, working drummer-percussionist-composer Raf Vertessen released his first full-length "LOI" last year with his New York quartet. It was received very enthusiastically on various continents, a harbinger of what could come. Reason enough to let him put together an ad hoc international band with like-minded musicians. He ended up with an unpublished foursome and will indulge in his double bass drum specialty...

Hanne De Backer is an artistic centipede. She graduated from the Herman Teirlinck Institute in 2010 and, among other things, co-founded a literary collective with which she transformed literature and music into anarchist location performances. Gradually she developed more and more as an improvisor and can be found alongside many renowned international musicians (Ken vandermark, Paal Nilsen Love, Terrie Ex,...)

Elias Stemeseder is an Austrian pianist of modern jazz who resided in New York for many years. That gave him a seat in many special musical formations, Jim Black Trio, John Zorn's Bagatelles, the Greg Cohen Quintet, Anna Webber's Percussive Mechanics, ... You can find him nowadays mainly in the Berlin scene alongside many Americans stranded there, such as Jim Black, Simon Jermyn, but also Nick Dunston.

Nick Dunston is an American, freshly Berlin-based acoustic and electroacoustic composer, improviser, and bassist. Called an "indispensable player on the New York avant-garde" by the New York Times, he's performed, toured, and recorded professionally with bands led by artists such as Marc Ribot, Ches Smith, Imani Uzuri, Ingrid Laubrock, Tyshawn Sorey, Anna Webber, Amirtha Kidambi, and Vijay Iyer.


hanne de backer
. barytone saxophone
elias stemeseder
. piano
nick dunston
. contrabas
raf vertessen
. drums
other concerts on 16.08
contemporary art on 16.08
continual
installations by bart van dijck, katinka de jonge, roeland tweelinckx, nathalie chambart
with the magnificent support of