LINE UP CITADELIC@SMAK 17

location: S.M.A.K. museum
Jan Hoetplein 1, Ghent
other concerts
dinsdag 21 FEBRUARI
20H
1000 anthems to work on a good end (Jan Klare / Wilbert De Joode / Bart Maris / Michael Vatcher)
21H15
KEENROH (Thijs Troch / Jan Daelman) + LYTTON + GEBRUERS


donderdag 27 APRIL
20H
ERIK VERMEULEN solo
21H15
GAYLE BARCELLA CABRAS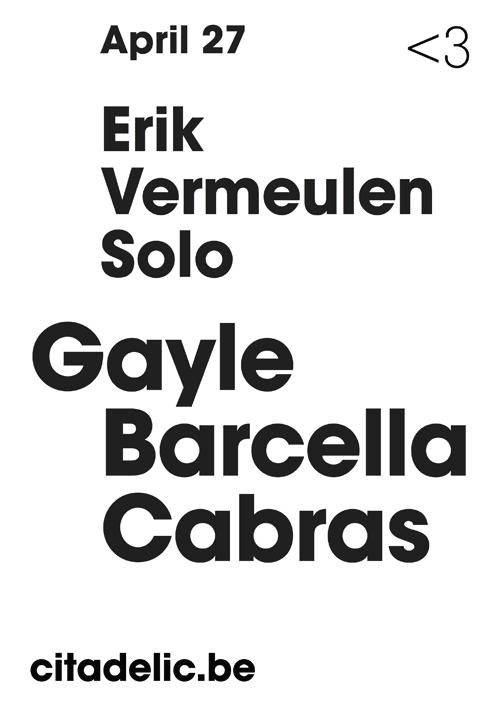 dinsdag 16 MAY
20H
VEDER (Niels Van Heertum / Eivind Lønning / Joachim Badenhorst / Ruben Machtelinckx)
21H15
SYLVIE COURVOISIER TRIO (Sylvie Courvoisier/ Drew Gress / Kenny Wollensen)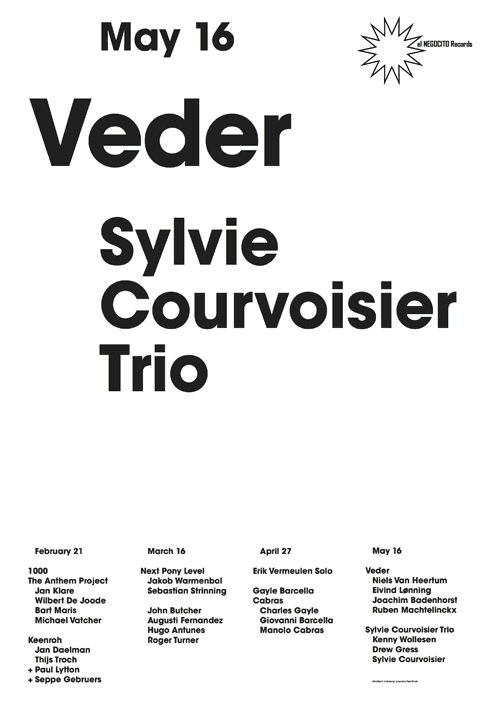 archive 2015
for reservation (VVK) mail info@citadelic.be
donderdag 16 maart 2017
20H - NEXT PONY LEVEL
De combinatie sax/drums werd geboren uit het vuur. Zo leek het toch geruime tijd nadat John Coltrane en Rashied Ali met "Interstellar Space" een gloeiendhete plaat afleverden die decennialang model zou staan voor deze opmerkelijke bezetting. Vrijheid is in deze context steevast een kernwoord en dat is niet anders bij de Zwitserse saxofonist Sebastian Strinning en de Belgische drummer Jakob Warmenbol, die samen door het leven gaan als Next Pony Level. Al sinds 2012 kiest dit tweetal voor dit bijzondere format en tourde zo al enkele keren in onze contreien. Vorig jaar haalden ze nog verschroeiend uit in een cafékelder in Antwerpen, waar ze de hulp kregen van de altijd wild in het rond schoppende John Dikeman. Het duo houdt van het rechttoe rechtaan werk en daarin is geen ruimte voor taboes. Afrikaanse muziek, rock, minimalistische passages, ... binnen Next Pony Leven is veel mogelijk. Hun debuutplaat zal tijdens deze tournee worden opgenomen. Ze zullen dus zonder enige twijfel op scherp staan.
Sebastian Strinning (BE): saxofoon
Jakob Warmenbol (BE): drums & percussie
21H15 - AGUSTI FERNANDEZ / JOHN BUTCHER / HUGO ANTUNES / ROGER TURNER
De Portugese bassist Hugo Antunes voegt drie sterke namen in de Europese jazz: saxofonist John Butcher, drummer Roger Turner en pianist Agusti Fernandez samen.Tijdens een residentie oktober laatstleden creëerde, schreef en presenteerde het quartet nieuwe repertoire "in loco" in het Jazz Centre in Lissabon. Improvisatie is de natuurlijke moeder van het proces.

Over decades Roger Turner has brought the renowned volcanic power and finely honed precision of his drum work to ensembles that have often forged real connections with musicians both sides of the Atlantic. In addition he has worked extensively in the microscopic laboratory of the acoustic duo situation where he acquired a highly developed sense of detail and of dynamic control. One of that select group of world-class players who have collectively redefined the language of contemporary percussion. In Turner's hands minute inflections of tension can shape the group's musical direction and galvanise a new level of audience experience.


Agusti Fernandez (ES) : piano
John Butcher (GB) : rieten
Hugo Antunes (PT) : bass
Roger Turner (GB) : drums & percussie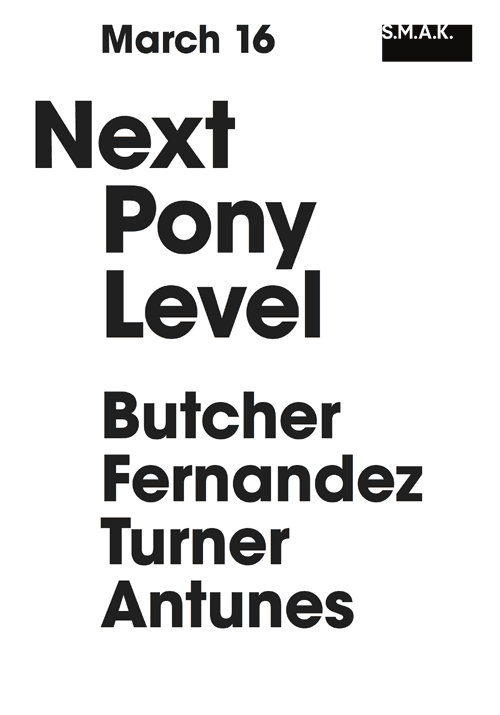 NEWS
30 january 2015
We will program concerts in co production with SMAK at the Museum. 3 spring dates to follow soon !!!
8 august 2014
Citadelic Festival edition 8 from 28 til 31st of may
8 june 2014
Atelier sessions announced... release eNR022 / new kid on the bloc on piano Kaja Draksler / Giovanni Barcella as Robin Hood
17 may 2014
helterskelter... programm on the way; poster by smeraldina-rima etc.