LINE UP CITADELIC@SMAK 17 autumn

location: S.M.A.K. museum
Jan Hoetplein 1, Ghent
other Citadelic@SMAK concerts
26 september 2017
20H
ENJIN (Rodrigo Fuentealba / Philipp Weies / Tsubasa Hori)
21H15
SPEAK EASY (Ute Wassermann / Phil Minton / Thomas Lehn / Martin Blume)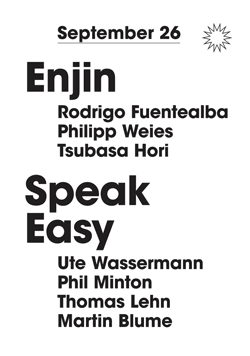 7 november 2017
20H
MICHAEL MOORE / ACHIM KAUFMANN
21H15
BAMBI PANGPANG (Viktor Perdieus / Laurens Smet / Seppe Gebruers) + FRANTZ LORIOT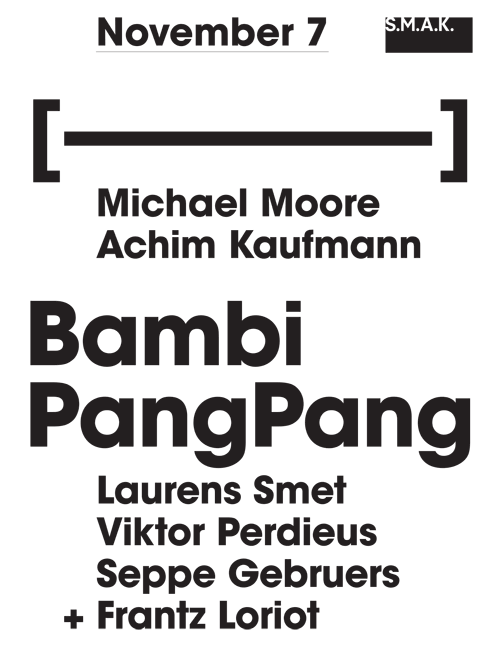 5 december 2017
20H
FISH-SCALE SUNRISE (Ab Baars / Kaja Draksler / Joe Williamson)
21H15
GIOVANNI Di DOMENICO & ABSCHATTUNGEN (Laurent Blondieau / Quentin Manfroy / Audrey Lauro / Daniele Martini / Gregoire Tirtiaux / Marti Melia Jordi Grognard / Giotis Damianidis / Axel Gilain / Mathieu Calleja / Jakob Warmenbol / Giovanni Di Domenico)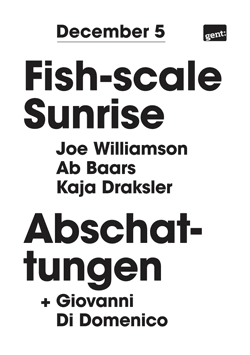 for reservation (VVK) mail info@citadelic.be
tuesday 17 october 2017
20H - g a b b r o + Samuel Ber
Gabbro is the name of a Polish coagulation rock, but it is also the group name of two Belgian saxophonists, Hanne De Backer (Dottir Slonza, ..) and Marc De Maeseneer (Admiral Freebee, The Whodads, Olla Vogala and BackBack - the surfing jazz trio with Filip Wauters and Giovanni Barcella)

They investigate the possibilities of the baritone shave. Particularly, especially because of the design of two baritone saxophonists à l'improviste. With a host drummer, this is of course something different, but it also shows the strength of the starting point of research.


Hanne De Backer: baritone saxophone
Marc De Maeseneer: baritone saxophone
Samuel Ber: drums
21H15 - SOUNDING TEARS - exclusive concert for Belgium
American violist Mat Maneri over the course of a twenty-five year career has "changed the way the jazz world listens to the Violin & Viola" (All About Jazz) and has established an international reputation as one of the most original and compelling artists of his generation, praised for his high degree of individualism, a distinctive marriage of jazz and microtonal music, and for his work with 20th century icons of improvised music. For his first release in years Mat Maneri pairs with legendary British saxophonist Evan Parker, one of Europe's avant-garde leading voices for the past 40 years, and with long time collaborator, Transylvanian expat pianist Lucian Ban, in a trio of improvisations that foreshadow jazz in the new millennium.

"Unorthodox but mesmeringly beautiful music"
John Fordham, The Guardian
"Composition and improvisation in the service of chamber-ready interplay of the highest order"
Derrek Taylor, Dusted Magazine
"This, of course, isn't bebop - This is Mat Maneri's spacious, amorphous, dreamy world of sound: maybe this is what music sounds like soaking into the void from the interstellar spacecraft as it travels at the speed of light"
Dan Mcclenagham, All About Jazz
"Sounding Tears is a one-of-a-kind experience"
Filipe Freitas, Jazz Trail
"A mood of elegy is woven by the three in an elaborately abstract tapestry so fine that you can hardly see the needlepoint"
Stephen Graham, Marlbank
Talking about Sounding Tears (album, Cleanfeed) Mat Maneri says:
"Music begins before music. As an improviser the first note I play sets in motion the whole world.
As a trio, where does musical intimacy come from? Is it improvisation, is it chamber music? Is it jazz?
The music on this album, the experience, empathy and the shared history that Evan and Lucian bring to Sounding Tears, is our answer"

Maneri sums up the spirit of Sounding Tears. "It's like Lester Young mixed with something insane; rooted in the past of an alternate universe which may have never existed." No other words can describe the dualities that this record holds within itself – the music is both cutting-edge and remarkably progressive while also being firmly rooted in tradition, song, and improvisational tactics which recall 20th century modern classical music in addition to jazz. The sound of Sounding Tears is the sound of three master musicians playing with integrity and heart, listening as much as asserting, letting silence dictate as much as sonic density. It's a treat and a delight to hear a recontextualized Evan Parker sitting patiently, enmeshing himself in a codified universe that Maneri and Ban have been crafting for several years.
About Evan Parker

Internationally celebrated saxophonist Evan Parker has been at the forefront of European avant-garde for more than 40 years defining an extraordinary voice and body of work. In that time Parker has consistently defied expectations about the sonic possibilities of the saxophone, developing a voice unparalleled in the history of the instrument. His 1970 album The Topography of the Lungs with guitarist Derek Bailey and percussionist Han Bennink is considered a milestone of the free improvisation genre. A collaborator of Cecil Taylor, Anthony Braxton, Paul Bley, Dave Holland, George Lewis, John Zorn, Alexander von Schlippenbach and many more, Parker is considered "one the music's greatest living instrumentalists" (The New York Times), and "one of the world's finest improvisers" (Chicago Reader). At 73 years old Evan Parker still tours and giving concerts all over the world.


About Mat Maneri and Lucian Ban

Mat Maneri and Lucian Ban first worked together in 2009 on Enesco Re-Imagined, a third stream extravaganza that was dedicated to the music of the great Romanian composer George Enesco. The album was recognized by several in the media as one of the top albums of that year. JazzTimes wrote "Enesco Re-Imagined is visionary third-stream music." Maneri and Ban's duo, Transylvanian Concert, released by ECM in 2013 won critical acclaim on both sides of the Atlantic, including several best of the year lists. The Guardian noted Transylvanian Concert's "Own kind of melancholy beauty and wayward exuberance", and The New York Times called it "a lovely and restive new album," while All About Jazz hailed its "Moments of unanticipated beauty."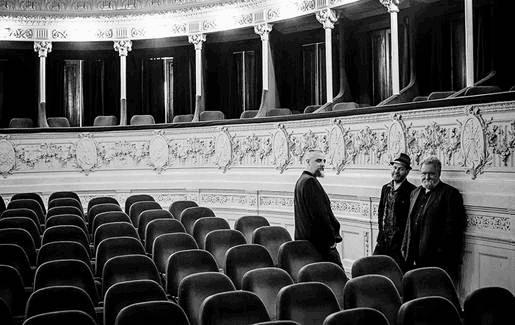 photo by Cornel Lazia
Mat Maneri: viola
Evan Parker: alto & soprano saxophone
Lucian Ban: piano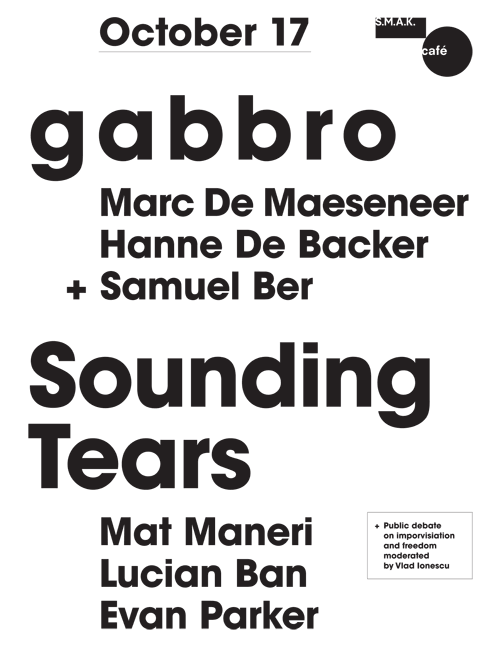 ticket presale
subscription for the 4 concerts
also available at
- SMAK Café
- Tickets Gent
- Uitbureau Gent