LINE UP CITADELIC@SMAK 15

location: S.M.A.K. museum
Jan Hoetplein 1, Ghent
wednesday 8 APRIL
20H
Seppe Gebreurs Solo
21H
Universal Indians ft. Joe McPhee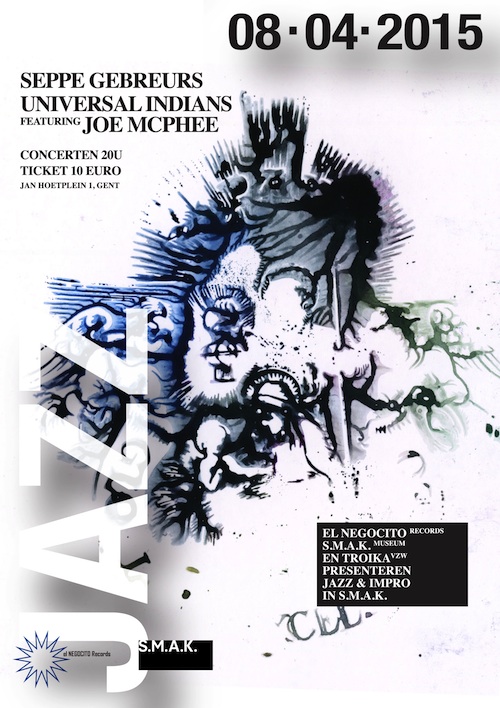 friday 1 MAY
20H
Christian Wallumrød Solo
21H
Howard Peach
archive
friday 27 FEBRUARI
Han Bennink / Jasper Stadhouders + Ifa y Xango Tentet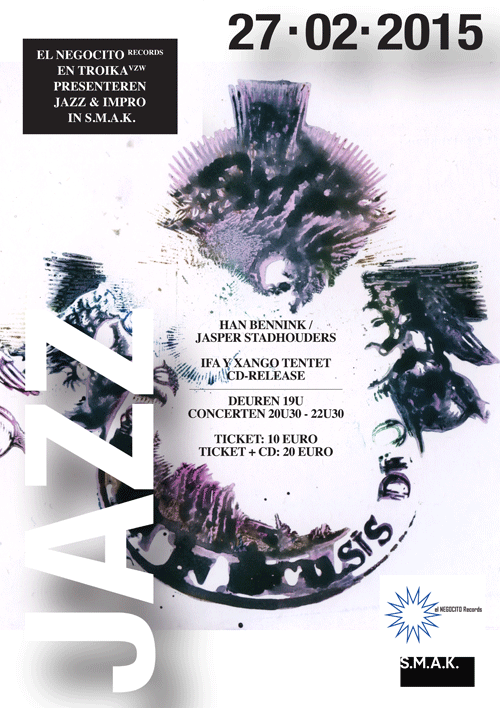 for reservation mail info@citadelic.be
20H30 - HAN BENNINK / JASPER STADHOUDERS
Han Bennink (born 17 April 1942) is a Dutch jazz drummer and percussionist.
Though perhaps best known as one of the pivotal figures in early European free jazz and free improvisation, Bennink has worked in essentially every school of jazz, and is described by critic Chris Kelsey as "one of the unfortunately rare musicians whose abilities and interests span jazz's entire spectrum."
Known for often injecting slapstick and absurdist humor into his performances, Bennink has had especially fruitful long-term partnerships with pianist Misha Mengelberg and saxophonist Peter Brötzmann.
Jasper Stadhouders (Tilburg, the Netherlands, 1989) is a guitarist and bassist based in Amsterdam. He's performed music on stage since the age of 8. He is an active member of the international improvised music circuit. He is a co-founder of the bands Cactus Truck (with John Dikeman and Onno Govaert), Stadhouders/Govaert/De Joode Trio and two duos with percussionists Dag Erik Knedal Andersen and Nicolas Field. He is also part of such diverse bands as Spinifex and Lily's Déjà Vu, next to playing countless of ad hoc improv shows.
Jasper also occasionally works in the fields of dance, theatre and contemporary composed music. He has played with Ab Baars, Paal Nilssen-Love, Marshall Allen, Wolter Wierbos, Noel Redding, Ken Vandermark, Jim Black, Andrew D'Angelo, Terrie Ex, Andy Moor, Peter Evans, Frank Rosaly, Dave Rempis, Roy Campbell, Michael Moore, Jeb Bishop, Peter Jacquemyn, Wally Shoup, Ingrid Laubrock, Mars Williams, Michael Vatcher, Alan Wilkinson and many more.
Han Bennink: percussie
Jasper Stadhouders: Guitars
22H30 - IFA Y XANGO Tentet
cd release - Twice left handed // shavings (eNR033)
Ifa y Xango are a number of musicians based in Belgium and Brazil. The group was founded in 2010 with all of the seven musicians in the band playing acoustic instruments and self- composed music at the time. Since releasing their debut album Abraham, which was elected as "Best debut album" by the New York City Jazz Record in 2013, they have expanded the band with three new members. The group is proud to present their upcoming second album "twice left handed \\ shavings", inspired by the band's love for experimental electronic dance music, trance music and musique concrète on el NEGOCITO Records. The recording will be released as a limited edition vinyl on the upcoming concerts. Ifa y Xango is a part of the Troika collective.
João Lobo, Sep Francois, Ruben Pensaert: Percussion and Drums
Seppe Gebruers: Electronic keyboards and live processing
Niels van Heertum, Filipe Nader, Viktor Perdieus: Woodwind and brass instruments
Bert Cools, Ruben Machtelinckx, Laurens Smet: Electric guitars, bass guitars and keyboards
NEWS
30 january 2015
We will program concerts in co production with SMAK at the Museum. 3 spring dates to follow soon !!!
8 august 2014
Citadelic Festival edition 8 from 28 til 31st of may
8 june 2014
Atelier sessions announced... release eNR022 / new kid on the bloc on piano Kaja Draksler / Giovanni Barcella as Robin Hood
17 may 2014
helterskelter... programm on the way; poster by smeraldina-rima etc.