LINE UP CITADELIC@SMAK 18

location: S.M.A.K. museum
Jan Hoetplein 1, Ghent
other concerts
friday 16 FEBRUARY
20H
RUDY TROUVE
21H15
VLEK (Edward Capel / Jeroen Doomernik / Hans Sparla / Jacq Palinckx / Bart van Dongen / Bert Palinckx / Pascal Vermeer)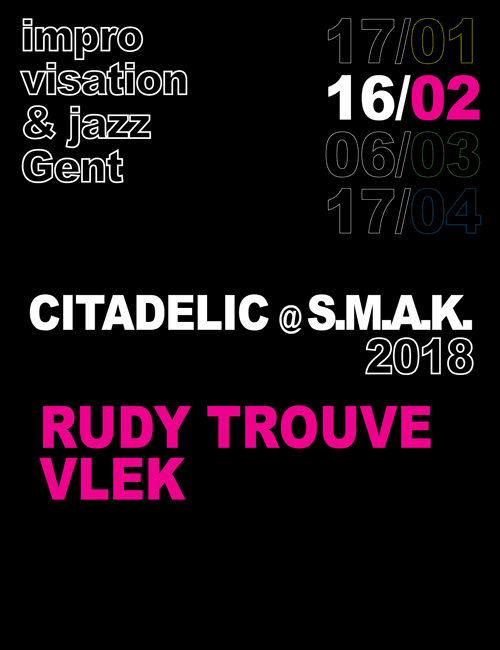 tuesday 6 MARCH
20H
INGAR ZACH
21H15
ORIOL ROCA TRIO (Oriol Roca / Manolo Cabras / Giovanni Di Domenico)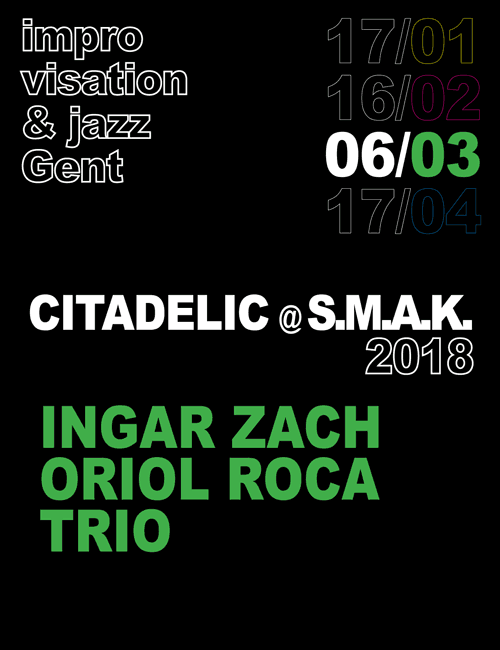 tuesday 17 APRIL
20H
OUT OF THE BLUE (Paul Van Gysegem / Kim Van Den Brempt)
21H15
PLATFORM (Xavier Charles / Jonas Cambien: piano / Jan Martin Gismervik / Katrine Schiøtt)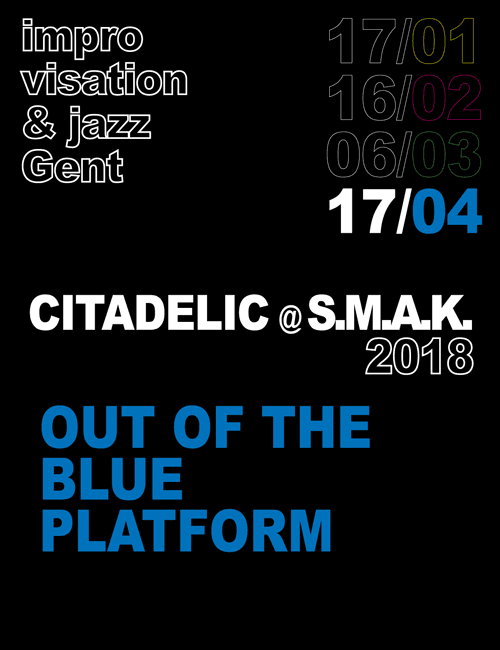 for reservation (VVK) mail info@citadelic.be
wednesday 17 JANUARY
20H - MALFLIET / EYSERMANS
In the duo of Ann Eysermans and Raphael Malfliet two instruments, the viola da gamba and the bass guitar, which possess a certain connotation and little combinatorial experience are put face-to-face. They use less common playing techniques and sounds and thus question the traditional musical parameters such as form, sound and pitch in an improvised setting. Furthermore, during this communication both players try to investigate their psychological state and try to break through certain behavioral patterns.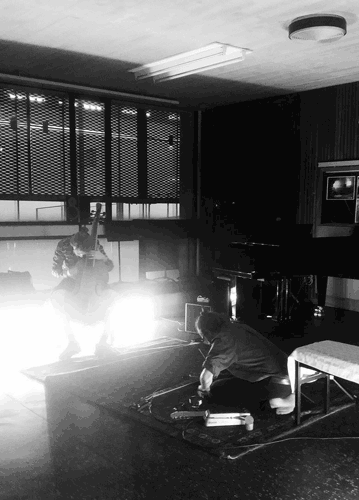 Ann Eysermans (Belgium, 1980) is a performer, improviser and composer. She is both connected to Champ d'Action as well as working on her own auditory and visual projects. She obtained her Master's degree 'Musical Notation and Composition' (2004) and 'Double Bass, Jazz' (2007) at the Royal Conservatory of Brussels. From 2010 until 2014 she has been working on an intermedial (audiovisual) research project called "P - TRAINS (Astrin Phosphora)". On 27th of November 2014 she obtained her 'PhD in Arts' (cum laude), at the VUB.

Raphael Malfliet is an experimental electric bass player and composer based in Antwerp Belgium. He obtained his master's degree in jazz and improvisation with Nicolas Thys at the Conservatory of Antwerp. After graduating in 2014 Raphael left for New York for a period of three months to get inspired by the city and it's musicians. His experiences there made him become interested in contemporary classical music and composition. Focussing intensely on how to connect those interests with improvised music and performance, he started to explore new sound possibilities on the electric bass using a bow and prepared techniques. Here Raphael formed his own trio with Todd Neufeld on guitar and Carlo Costa on drums and percussion. They recorded 'Noumenon', Raphael's first album as a leader which was released in November 2016 on Ruweh Records and followed by concerts in Belgium, Japan and New York. The album was voted 'Best Debut Album of 2016' (El Intruso, All About Jazz, Hiroyuko Masuko) Early 2017 Raphael spent time in New York to further develop his improvisation skills and do research on indeterminacy in composition.


Raphael Malfliet: electric bass
Ann Eysermans: viola de gamba
21H15 - DOUBLE THE DOUBLE BASS VII
Joëlle Léandre (FR), one of the most powerful voices of international contemporary and improvisation scene on tour with the exceptional Cologne bassist and ECHO bass winner Sebastian Gramss.

DOUBLE THE DOUBLE BASS... The format of the concerts is simple and proven: pure double bass – solos and duos in spontaneous succession. It all began in 2008, when Gramss began a duo cooperation with the legendary bass master Stefano Scodanibbio. Recent partners on tour were Barre Phillips (US) and Tetsu Saitoh (JAP) in 2013; Mark Dresser (US) and Tetsu Saitoh (JAP) in 2014, Barry Guy (GB) in 2015, and William Parker (US) in 2016.

JOËLLE LÉANDRE French double bass player, improviser and composer, Joëlle Léandre is one of the dominant figures of the new European music. Trained in orchestral as well as contemporary music, she has played with l'Itinéraire, 2e2m and Pierre Boulez's Ensemble Intercontemporain. Joëlle Léandre has also worked with Merce Cunningham and with John Cage, who has composed especially for her – as have Scelsi, Fénelon, Hersant, Lacy, Campana, Jolas, Clementi and about 40 composers. As well as working in contemporary music, Léandre has played with some of the great names in jazz and improvisation, such as Derek Bailey, Anthony Braxton, George Lewis, Evan Parker, Irene Schweizer, William Parker, Barre Phillips, Pascal Contet, Steve Lacy, Lauren Newton, Peter Kowald, Urs Leimgruber, Mat Maneri, Roy Campbell, Fred Frith, John Zorn, Mark Naussef, Marilyn Crispell, India Cooke and so many others... She has written extensively for dance and theater, and has staged a number of multidisciplinary performances. She got the DAAD at Berlin, is welcomed as artist resident at Villa Kujiyama (Kyoto). In 2002, 2004 and 2006, she is Visiting Professor at Mills college, Oakland, CA, Chaire Darius Milhaud, for improvisation and composition. Her work as a composer and a performer, both in solo recitals and a part of ensembles, has put her under the lights of the most prestigious stages of Europe, the Americas and Asia. From 1981 to 2009, Joëlle Léandre has about 150 recordings to her credit.

SEBASTIAN GRAMSS is a German double bass virtuoso and composer of jazz and contemporary music. In 2013 he received the ECHO Jazz award (national instrumentalist of the year). He studied double bass and composition at the Conservatorium van Amsterdam and at the Cologne University of Music. Gramss released more than 25 CDs under his name. He's been an inspiring and innovative presence in the world of jazz with his band UNDERKARL for the past 25 years, and recently with his new trios SLOWFOX (with Hayden Chisholm & Philip Zoubek) and FOSSILE 3 (with Rudi Mahall & Etienne Nillesen). His bass activities include his solo works (Atopie), a long term bass duo series (started with Stefano Scodanibbio in 2008, and continued with Barre Phillips, Tetsu Saitoh, Mark Dresser, Barry Guy and William Parker in over 50 concerts + recordings), several quartets and the international double bass orchestra BASSMASSE with 13 (and up to 50) bass players. Gramss has composed for radio drama, movies and theatre and – among others – for choreographer Pina Bausch, and recently with/for the Ensemble Modern. He teaches at the Cologne University of Music and University of Osnabrück, and gives master classes around the world. Extensive touring with his music has led him to venues and festivals all over the world, including Japan, India, Latin America, Russia, USA, Africa, and Australia. He is currently the curator/ director of SAMUR (South Asian Music Residency) in India. International cooperations: Marilyn Crispell, Fred Frith, Sidsel Endresen, A. v. Schlippenbach, Tom Cora, Ensemble Modern, N. Wogram, E. Sharp, P. Kowald, Z. Parkins, Brötzmann, J. Tilbury, Conny Bauer...

Joëlle Léandre: double bass
Sebastian Gramss: double bass