LINE UP CITADELIC@SMAK 18

location: S.M.A.K. museum
Jan Hoetplein 1, Ghent
other concerts
wednesday 17 JANUARY
20H
EYSERMANS / MALFLIET (Raphael Malfliet / Ann Eysermans)
21H15
DOUBLE THE DOUBLE BASS VII (Joëlle Léandre / Sebastian Gramss)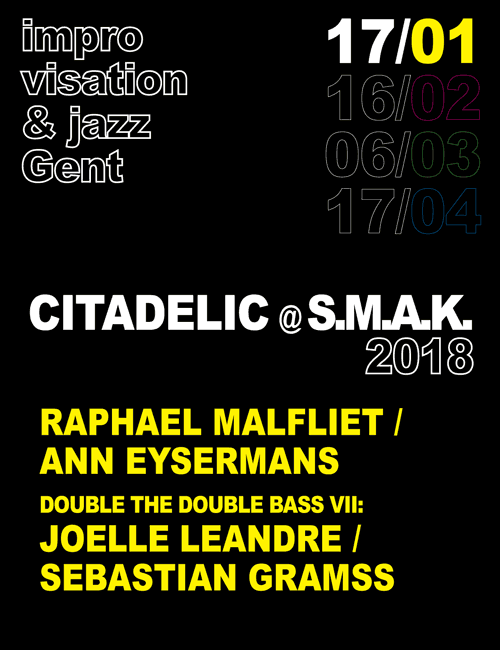 friday 16 FEBRUARY
20H
RUDY TROUVE
21H15
VLEK (Edward Capel / Jeroen Doomernik / Hans Sparla / Jacq Palinckx / Bart van Dongen / Bert Palinckx / Pascal Vermeer)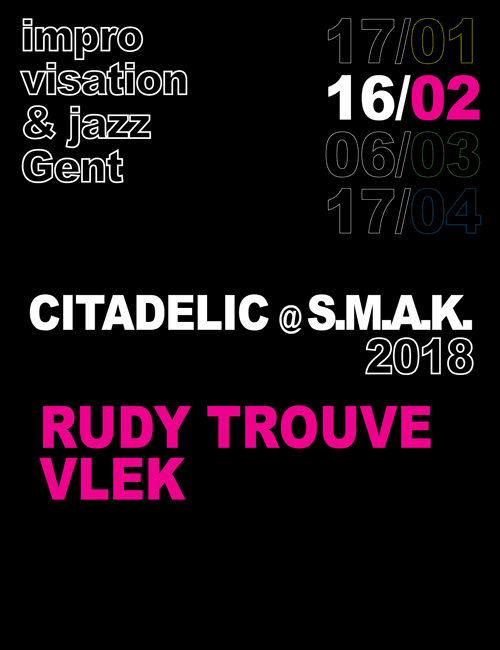 tuesday 6 MARCH
20H
INGAR ZACH
21H15
ORIOL ROCA TRIO (Oriol Roca / Manolo Cabras / Giovanni Di Domenico)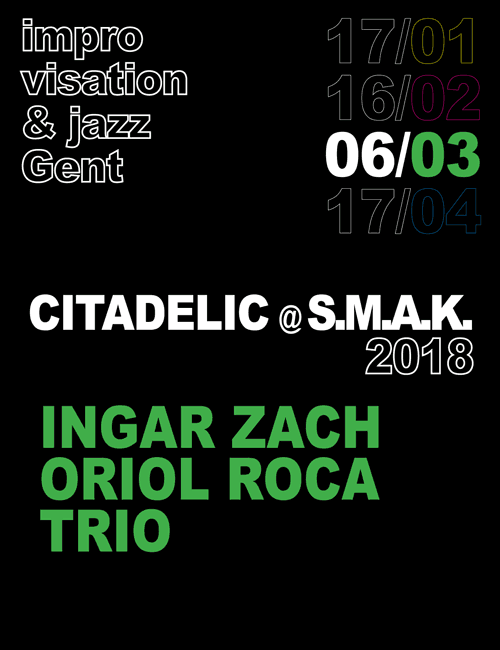 for reservation (VVK) mail info@citadelic.be
tuesday 17 april 2018
20H - OUT OF THE BLUE: VAN GYSEGEM / VAN DEN BREMPT
Artist Paul Van Gysegem stood at the cradle of the experimental free jazz of the seventies. As a pianist, Kim Van den Brempt is a passionate defender of the contemporary repertoire. Together they map out a route in which American minimalism is the starting point of an exciting musical jousting with space for improvisation, composition and dialogue. When two worlds meet each other, numerous possibilities arise.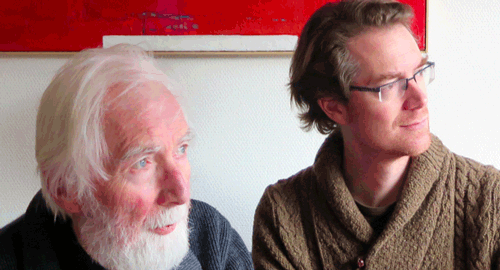 Paul Van Gysegem: double bass
Kim Van Den Brempt: piano
21H15 - PLATFORM
Platform plays acoustic, improvised music exploring slowly changing textures, elastic sonic sculptures and meditative drones. Small ideas get all the time and space they need to develop and to be fully played out. Using prepared piano, minimalistic percussion, extended techniques on clarinet and cello, Platform creates abstract and cinematic sheets of sound. The sound is sometimes dark and noisy, sometimes light and dreamy, with an occasional hint to a groove or melody. All the music is fully improvised and the bands style was developed exclusively trough live performances.

Platform is an improvising collective, started by three young musicians from Oslo's vibrant music scene, who've gained attention with a series of concerts and recordings with amongst others Monkey Plot, Mette Henriette, Oker, Moddi, Karokh and Aksiom. In 2014, Platform was joined by the french clarinet player Xavier Charles, known from Dans Les Arbres and countles collaborations with Axel Dörner, John Butcher, The Ex and plenty more.

Platform has performed on numerous stages in Norway, Sweden, Portugal , Spain and Japan, and has released two studio albums: Anthropocene (2015) on the Norwegian label Vafongool, and Flux Reflux (2017) on the Portugese label Clean Feed.


Xavier Charles: reeds
Jonas Cambien: piano
Jan Martin Gismervik: percussion
Katrine Schiøtt: cello