18:30-20:00
DE BEREN GIEREN
20:30-22:00
LILLY JOEL





18:00 - 20:00
PATRICK DE GROOTE - CHRIS JORIS - PAUL VAN GYSEGEM
20:30 - 22:00
IN MEMORIAM GLOBAL VILLAGE ft. XU FENGXIA





12:00 - 14:00
WANDJINA
19:00 - 20:00
STEIGER
20:45 - 22:00
JORGY ROSSY VIBRATION QUINTET ft. MARK TURNER, AL FOSTER





12:00 - 14:00
MOKER
17:00 - 18:30
RODRIGO FUENTEALBA invites PHILIPP WEIES & TSUBASA HORI
18:30 - 20:00
LLOP
20:00 - 22:00
OSAMA ABDULRASOL 'Bidaye - Building Bridges'





12:00 - 14:00
PAUL VAN GYSEGEM TRIO
15:00 - 17:00
KLANKENBOS ft. BASSSS
17:00 - 18:30
HAMSTER AXIS & MARCEL VANTHILT
18:30 - 20:00
SAL LA ROCCA QUARTET
20:00 - 22:00
SAMUEL BLASER TRIO




12:00 - 14:00
3/4 PEACE
14:00 - 15:00
RUBEN MACHTELINCKX & KARL VAN DEUN
15:00 - 17:00
SOLO
at different spots in the park
16:30 - 18:00
BRUNO DE GROOTE / BEN FAES DUO
18:00 - 19:30
BARDO
19:30 - 22:00
PRAED

Donderdag 1 juni, 20:00 - 22:00,
IN MEMORIAM GLOBAL VILLAGE ft. XU FENGXIA
---------------------------------------------------------------------------------
(NL)
PETER JACQUEMYN, geboren in 1963 in Schaerbeek, woont en werkt in Brakel. Hij is een veelzijdige kunstenaar / beeldhouwer en is ook muzikaal erg actief. Als beeldhouwer bevrijdt hij met zijn bijl en kettingzaag expressionistische beeldhouwwerken uit het bos.
Zijn concerten en optredens zijn even spectaculair. Jacquemyn, autodidact, is een bekende figuur uit de Europese improvisatiewereld geworden en heeft samengewerkt met Peter Kowald (contrabas), Fred Van Hove (piano), Joelle Leandre (contrabas), Geurt Grosfeld (fluit / elektronica) Phil Minton (stem), Takashi Yamane (klarinet), Evan Parker (saxofoon) ondermeer ... Als improvisator begon hij zijn carrière bij de WIM (Workgroup Improvising Musicians). Zijn stijl is erg energiek en spectaculair gesterkt door zijn kwaliteiten als judoka. Hij ontwikkelde zijn eigen manier van spelen met blikjes, nagels en 2 tot 3 bogen tegelijk en gebruikt zijn stem. Hij vormde onlangs Basssss, een ensemble met 5 gerespecteerde Belgische contrabassisten. Met deze groep toert hij in België in de meimaand 2017 in groter formaat als het project Fundament met musici zoals Eric Sleichim (Blindman), Mathieu Lilin, etc.

GUNDA GOTTSCHALK (1969) is een klassiek opgeleide pianiste die haar weg via hedendaagse klassieke muziek naar improvisatiemuziek vond. In 1991 werd ze lid van de Radical Partita, een ensemble voor nieuwe en geïmproviseerde muziek. Vanaf 1994 bewandelt ze geregeld het muzikale pad met de Duitse bassist Peter Kowald en vanaf 1995 tot zijn dood in 2002 vormt ze samen met hem en de Chinese Xu Fengxia de kern van het Global Village Ensemble. In 2002 en 2003 maakt ze als solo artieste concertreizen door de VS waar ze speelde met grote Amerikaanse pioniers van de geïmproviseerde muziek als William Parker, Susie Ibarra, Michael Zerang, Oliver Lake en Fred Frith.

XU FENGXIA is een musicus uit China, meester van de guzheng (Chinese 22snaren-harp), de Sanxian en is een sterke zangeres. Zij is betrokken bij Chinese muziek, Jazz, Hedendaags ...
(ENG)
PETER JACQUEMYN, born in 1963 in Schaerbeek, lives and works in Brakel. He is a versatile artist/sculptor and and is also musically very active. As a sculptor he frees with ax and chainsaw expressionistic sculptures out of the wood. His concerts and performances are equally spectacular. Jacquemyn -musically self-taught - has become a known figure in the European improvisation world and has collaborated with Peter Kowald (double bass), Fred Van Hove (piano), Joelle Leandre (double bass), Geurt Grosfeld (flute / electronics), Phil Minton (voice), Takashi Yamane (clarinet), Evan Parker (saxophone) amongst others...

As an improviser, he began his career with WIM (Workgroup Improvising Musicians). His style is very energetic and spectacular, probably due to his qualities as a judoka. He developed his own way of playing with cans, nails and 2 to 3 bows simultaneously and uses his voice.

He recently formed Basssss a 5 headed double bass ensemble with all respected Belgian bass players and is touring with this band in bigger format in may 2017 as the project Fundament featuring musicians like Eric Sleichim (Bl!ndman), Mathieu Lilin etc.

GUNDA GOTTSCHALK (1969) is a classically trained pianist who found her way through contemporary classical music to free improvisation. In 1991 she became a member of Radical Partita, an ensemble for new and improvised music. From 1994 onwards, her musical path regularly crosses with the German bassist Peter Kowald and from 1995 until the death of Kowald in 2002, she forms together with him and the Chinese Xu Fengxia, the core of the Global Village Ensemble. In 2002 and 2003 she makes as solo artists concert tours through the USA where she plays with great American figures of improvised music as William Parker, Susie Ibarra, Michael Zerang, Oliver Lake and Fred Frith.

XU FENGXIA is a musician from China, master of the guzheng (Chinese 22 string harp), the sanxian and a powerful singer. She is involved in Chinese music, Jazz, Contemporary ...

XU FENGXIA (CH) voice & guzeng
GUNDA GOTTSCHALK (DE) violin & voice
PETER JACQUEMYN voice & double bass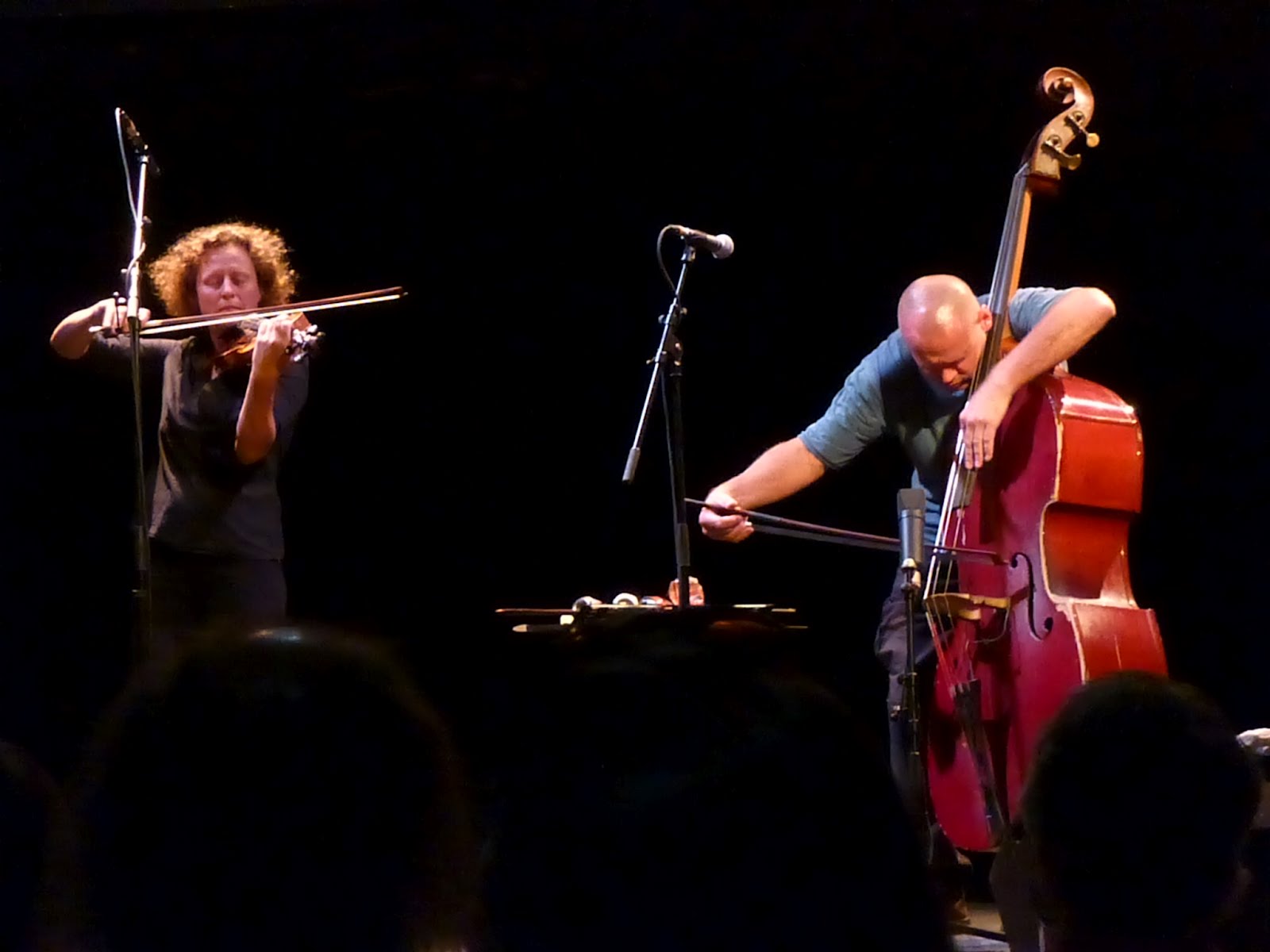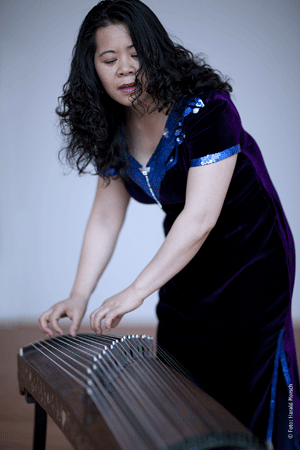 photo by Harald Morsch