18:30-20:00
DE BEREN GIEREN
20:30-22:00
LILLY JOEL





18:00 - 20:00
PATRICK DE GROOTE - CHRIS JORIS - PAUL VAN GYSEGEM
20:30 - 22:00
IN MEMORIAM GLOBAL VILLAGE ft. XU FENGXIA





12:00 - 14:00
WANDJINA
18:00 - 20:00
STEIGER
20:00 - 22:00
JORGE ROSSY VIBRATION QUINTET ft. MARK TURNER, AL FOSTER





12:00 - 14:00
MOKER
17:00 - 18:30
RODRIGO FUENTEALBA invites PHILIPP WEIES & TSUBASA HORI
18:30 - 20:00
LLOP
20:00 - 22:00
OSAMA ABDULRASOL 'Bidaye - Building Bridges'





12:00 - 14:00
PAUL VAN GYSEGEM TRIO
15:00 - 17:00
KLANKENBOS ft. BASSSS
17:00 - 18:30
HAMSTER AXIS & MARCEL VANTHILT
18:30 - 20:00
SAL LA ROCCA QUARTET
20:00 - 22:00
SAMUEL BLASER TRIO




12:00 - 14:00
3/4 PEACE
14:00 - 15:00
RUBEN MACHTELINCKX & KARL VAN DEUN
15:00 - 17:00
SOLO
at different spots in the park
16:30 - 18:00
BRUNO DE GROOTE / BEN FAES DUO
18:00 - 19:30
BARDO
19:30 - 22:00
PRAED

Maandag 5 juni, 12:00 - 14:00,
3/4 PEACE
an el NEGOCITO Records Production
---------------------------------------------------------------------------------
(NL)
"3/4 Peace is een trio opgericht door de Belgische saxofonist-fluitist Ben Sluijs. Aan zijn zijde twee jongere muzikanten die opgang maken: de Belgisch-Peruviaanse pianist Christian Mendoza en de Franse bassist Brice Soniano. Een dergelijke trio bezetting klinkt origineel en is eerder zeldzaam. Met herinneringen aan de meer intimistische klank van gelijkaardige trio's als Giuffrey/Bley/Swallow of het trio Konitz/Mehldau/Haden, heeft ook 3/4 Peace onmiskenbaar een klank van zichzelf.

Proberen dit trio te omschrijven is niet zo eenvoudig. Alhoewel de 3 heren hoorbaar een grondige kennis hebben van de jazz-traditie, laten ze zich in hun improvisaties en composities evenzeer ook inspireren door o.a. de Europese klassieke muziek- en jazz-cultuur.

Deze mannen spelen zowel standaardschema's als vrije improvisaties. Er zijn bewerkingen van thema's uit de klassieke muziek, maar ze schrijven en spelen toch vooral eigen originele muziek. Daarbij getuigen ze van een ernstige zoektocht naar de ontwikkeling van zowel de eigen individuele stem als van een groepsklank waarin deze drie stemmen gelijkwaardig zijn.

Zo kan een ritmische baslijn van Brice Soniano, ondersteunend en toch licht en precies, enkele dartele lijnen van Christian Mendoza dragen terwijl de alt van Ben Sluijs vandaaruit omhoog probeert te kringelen. Het trio kan zich plots opsplitsen in duo's, uitgesponnen soms meditatieve solomomenten, energiekere trio-improvisaties…

Lyrische melodieën en ook sterk harmonisch geschreven composities maken een groot deel uit van het repertoire, al bestaat altijd de mogelijkheid en de noodzakelijkheid deze vaste vormen ook los te kunnen laten.

"De warme hese toon van Sluijs, het sonore strijkwerk van de bassist en de subtiele pianofiligrijnen zorgden voor een intiem muzikaal feest." (Jazzflits-Holland)
(ENG)
3/4 Peace is a trio founded by the Belgian saxophone player Ben Sluijs. Two younger musicians on the rise join him: the Belgian-Peruvian pianist Christian Mendoza and the French bass player Brice Soniano. Such a trio configuration sounds original and is rather rare. With the more intimidated sound of similar trio's such as Giuffrey / Bley / Swallow or the Konitz / Mehldau / Haden trio in mind, 3/4 Peace has also it's own sound.

Trying to describe this trio is not that simple. Although the 3 men audibly have a thorough knowledge of the jazz tradition, they also get inspired in their improvisations and compositions by the European classical music and jazz culture.

With standards and free improvisations, with no fear of classical music themes, at the end they write and play mostly their original music. The group searches for the development of both their own voice and a group sound in which these three individuals are equivalent.

For example, a rhythmic bass line of Brice Soniano, supporting and yet light and precise, can wear some frisky lines of Christian Mendoza meanwhile the alto of Ben Sluijs tries to circle upwards from there. The trio can suddenly break into duos, spin sometimes meditative solo moments, energetic trio improvisations ...

Lyric melodies and highly harmonically written compositions make up a large part of the repertoire, though there is always the possibility and the necessity of losing these solid forms.

BEN SLUYS alto saxophone and flutes
CHRISTIAN MENDOZA piano
BRICE SONIANO (FR) double bas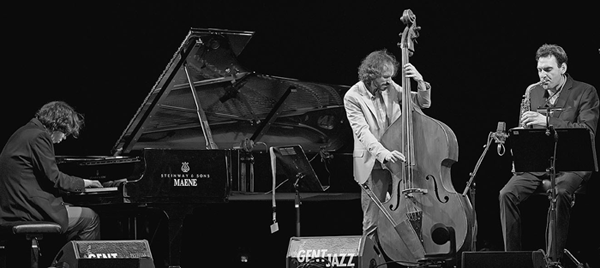 photo by Cees van de Ven